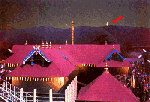 Every eye turns to the north-east horizon to witness the peerless phenomenon, that appearance of 'Makarajyothi', another spectacular scene which leaves an indelible impression in the hearts of the devotees. On seeing this celestial splendor.in the midst of the spontaneous cries of 'Swamiye Saranam Ayyappa' from millions of throats.
Poojas and other ceremonies connected with the celebration of Makaravilakku are performed on the 'Manimandapa' (Sacred Platform) near the Divine Shrine. A picture of sastha as riding on a leopard's back is depicted on this platform.
After the poojas, Malikappurath Amma is mounted on an elephant's back and taken in procession, accompanied by toarch-bearers, drummers, buglers etc.to Pathinettampadi. The procession returns circumambulating the main temple.
The festival lasts for seven days and ends the ritual known as 'Guruthi', an offering conducted to propitiate the Gods and Goddesses of Wilderness.